Optical Spectral Engine
DAYY's Multi SLED® (superluminescent diode) OSE2 is a compact broadband light source that operates in the near infrared region. The product itself is a 32 pin
butterfly package that uses a set of superluminescent diodes, one monitor diode for each SLED (enabling better power control and monitoring capabilities), a thermoelectric cooler (TEC), an integrated isolator, and a spectral stitching design to provide overlapping spectral coverage. The Multi-SLED can be configured with up to six light sources.
The OSE2 includes various spectral coverages with SLED's ranging from 770nm to 1680nm, with up to 40mW of optical power. This product enables stable power and center-wavelength performance over time, and steady optical performance over a wide spectrum of wavelengths. The OSE2 is compact and easy to use, making it an appropriate fit for many different types of manufactured assemblies requiring light power.
The Multi-SLED uses DAYY's technology of spectral stitching to provide extensive spectral coverage. This technology integrates multiple wavelengths into a single spatially coherent beam with low temporal coherence and broad spectral coverage. The Multi-SLED product lines can be spectrally tailored to suit specific application needs.

Key Features:
Between two and six superluminescent diodes (SLEDs) in a single unit
Each SLED comes with a built-in independent monitor photodiode and one common thermoelectric cooler (TEC) for all SLEDs
All SLEDs can be run from 0-100% of maximum rating
Fiber-coupled output power from 10mW to 40mW; Free Space output power from 30mW to 130mW
Bandwidth FWHM from 40nm to 460nm
SLED's ranging from 770nm to 1680nm
DAYY's spectral stitching technology provides optimum power and bandwidth
Light output: FC/APC Connector (Optional FC/PC or SMA)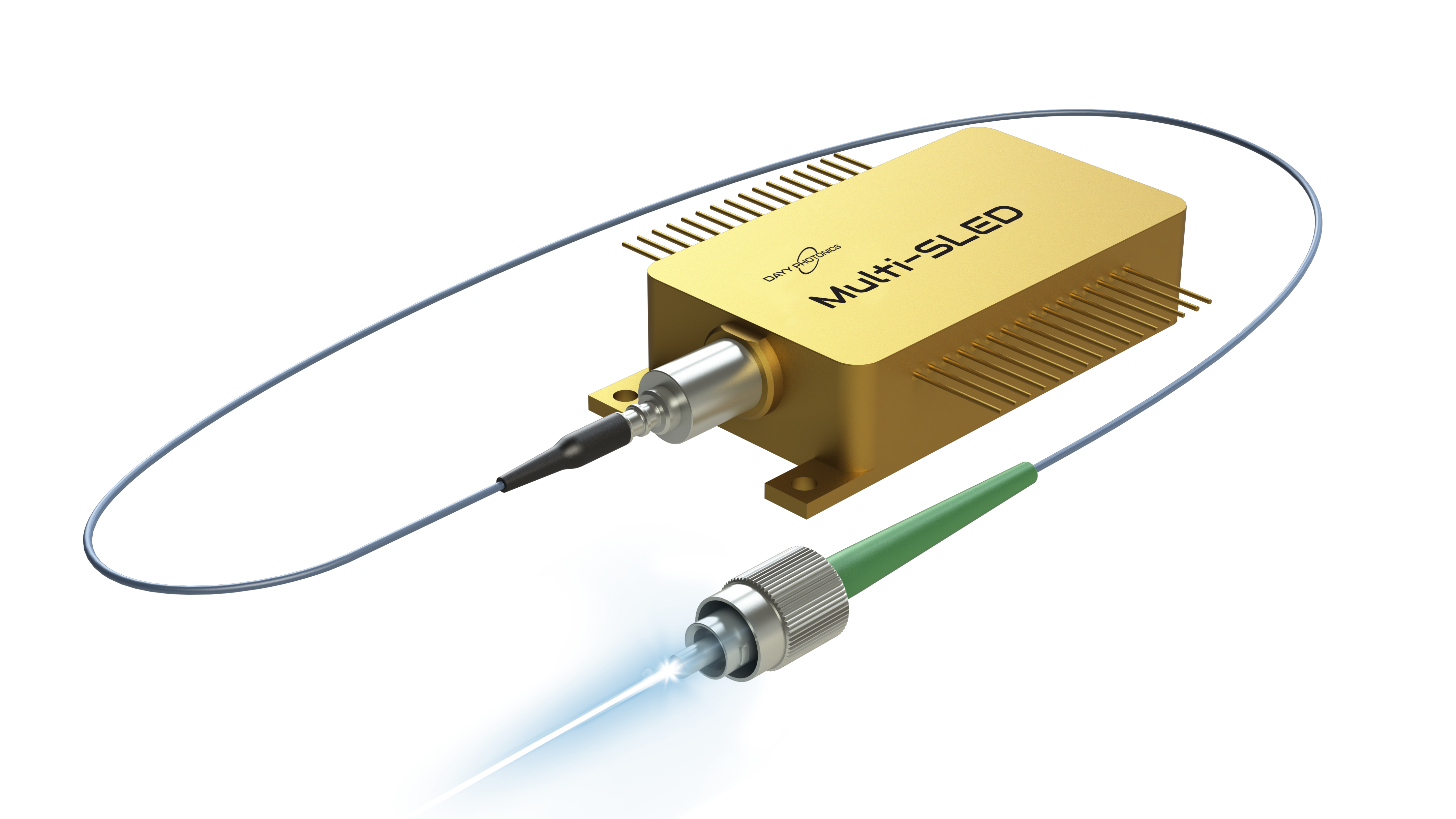 Filter, search or find the right product
| Number | # SLEDS | SLED | Fiber Type | DOP | SC [nm] | FWHM [nm] | CW [nm] | LOP [mW] | |
| --- | --- | --- | --- | --- | --- | --- | --- | --- | --- |
| ASM000001 | 2 | 1615nm, 1680nm | Polarization Maintaining | High Degree | 1575-1725 | 150 | 1650 | 12 | |
| ASM000002 | 3 | 1480nm, 1550nm, 1615nm | Polarization Maintaining | High Degree | 1435-1640 | 205 | 1538 | 18 | |
| ASM000003 | 3 | 1340nm, 1390nm, 1430nm | Polarization Maintaining | High Degree | 1310-1465 | 155 | 1388 | 20 | |
| ASM000004 | 4 | 1300nm, 1340nm, 1390nm, 1430nm | Polarization Maintaining | High Degree | 1265-1465 | 200 | 1365 | 25 | |
| ASM000005 | 4 | 1480nm, 1550nm, 1615nm, 1680nm | Polarization Maintaining | High Degree | 1435-1725 | 290 | 1580 | 25 | |
| ASM000006 | 5 | 1300nm, 1340nm, 1390nm, 1430nm, 1480nm | Polarization Maintaining | High Degree | 1265-1500 | 235 | 1383 | 35 | |
| ASM000007 | 5 | 1340nm, 1390nm, 1430nm, 1480nm, 1550nm | Polarization Maintaining | High Degree | 1305-1605 | 300 | 1455 | 35 | |
| ASM000008 | 6 | 1300nm, 1390nm, 1480nm, 1550nm, 1615nm, 1680nm | Polarization Maintaining | High Degree | 1265-1725 | 460 | 1495 | 40 | |
| ASM000009 | 2 | 1480nm, 1550nm | Polarization Maintaining | High Degree | 1435-1605 | 170 | 1520 | 12 | |
| ASM000010 | 6 | 1340nm, 1390nm, 1430nm, 1480nm, 1550nm, 1615nm | Polarization Maintaining | High Degree | 1310-1640 | 330 | 1475 | 38 | |
| ASM000011 | 6 | 1300nm, 1340nm, 1390nm, 1430nm, 1480nm, 1550nm | Polarization Maintaining | High Degree | 1265-1605 | 340 | 1435 | 40 | |
| ASM000012 | 3 | 1430nm, 1480nm, 1550nm | Polarization Maintaining | High Degree | 1410-1605 | 195 | 1508 | 19 | |
| ASM000013 | 3 | 1300nm, 1340nm, 1390nm | Polarization Maintaining | High Degree | 1265-1420 | 155 | 1343 | 20 | |
| ASM000014 | 3 | 1390nm, 1430nm, 1480nm | Polarization Maintaining | High Degree | 1355-1500 | 145 | 1428 | 19 | |
| ASM000015 | 3 | 1550nm, 1615nm, 1680nm | Polarization Maintaining | High Degree | 1515-1725 | 210 | 1620 | 18 | |
| ASM000016 | 2 | 1300nm, 1340nm | Polarization Maintaining | High Degree | 1265-1365 | 100 | 1315 | 12 | |
| ASM000017 | 3 | 1390nm, 1480nm, 1550nm | Polarization Maintaining | High Degree | 1340-1610 | 270 | 1475 | 20 | |
| ASM000018 | 3 | 1300nm, 1390nm, 1480nm | Polarization Maintaining | High Degree | 1265-1500 | 235 | 1383 | 20 | |
| ASM000019 | 5 | 1390nm, 1480nm, 1550nm, 1615nm, 1680nm | Polarization Maintaining | High Degree | 1340-1725 | 385 | 1533 | 32 | |
| ASM000020 | 2 | 1550nm, 1615nm | Polarization Maintaining | High Degree | 1530-1630 | 100 | 1580 | 10 | |
| ASM000021 | 6 | 1390nm, 1430nm, 1480nm, 1550nm, 1615nm, 1680nm | Polarization Maintaining | High Degree | 1345-1725 | 380 | 1535 | 35 | |
| ASM000051 | 3 | 830nm, 850nm, 880nm | Polarization Maintaining | High Degree | 810-890 | 80 | 850 | 10 | |
| ASM000101 | 2 | 1615nm, 1680nm | Single Mode | High Degree | 1575-1725 | 150 | 1650 | 12 | |
| ASM000102 | 3 | 1480nm, 1550nm, 1615nm | Single Mode | High Degree | 1435-1640 | 205 | 1538 | 18 | |
| ASM000103 | 3 | 1340nm, 1390nm, 1430nm | Single Mode | High Degree | 1310-1465 | 155 | 1388 | 20 | |
| ASM000104 | 4 | 1300nm, 1340nm, 1390nm, 1430nm | Single Mode | High Degree | 1265-1465 | 200 | 1365 | 25 | |
| ASM000105 | 4 | 1480nm, 1550nm, 1615nm, 1680nm | Single Mode | High Degree | 1435-1725 | 290 | 1580 | 25 | |
| ASM000106 | 5 | 1300nm, 1340nm, 1390nm, 1430nm, 1480nm | Single Mode | High Degree | 1265-1500 | 235 | 1383 | 35 | |
| ASM000107 | 5 | 1340nm, 1390nm, 1430nm, 1480nm, 1550nm | Single Mode | High Degree | 1305-1605 | 300 | 1455 | 35 | |
| ASM000108 | 6 | 1300nm, 1390nm, 1480nm, 1550nm, 1615nm, 1680nm | Single Mode | High Degree | 1265-1725 | 460 | 1495 | 40 | |
| ASM000109 | 2 | 1480nm, 1550nm | Single Mode | High Degree | 1435-1605 | 170 | 1520 | 12 | |
| ASM000110 | 6 | 1340nm, 1390nm, 1430nm, 1480nm, 1550nm, 1615nm | Single Mode | High Degree | 1310-1640 | 330 | 1475 | 38 | |
| ASM000111 | 6 | 1300nm, 1340nm, 1390nm, 1430nm, 1480nm, 1550nm | Single Mode | High Degree | 1265-1605 | 340 | 1435 | 40 | |
| ASM000112 | 3 | 1430nm, 1480nm, 1550nm | Single Mode | High Degree | 1410-1605 | 195 | 1508 | 19 | |
| ASM000113 | 3 | 1300nm, 1340nm, 1390nm | Single Mode | High Degree | 1265-1420 | 155 | 1343 | 20 | |
| ASM000114 | 3 | 1390nm, 1430nm, 1480nm | Single Mode | High Degree | 1355-1500 | 145 | 1428 | 19 | |
| ASM000115 | 3 | 1550nm, 1615nm, 1680nm | Single Mode | High Degree | 1515-1725 | 210 | 1620 | 18 | |
| ASM000116 | 2 | 1300nm, 1340nm | Single Mode | High Degree | 1265-1365 | 100 | 1315 | 12 | |
| ASM000117 | 3 | 1390nm, 1480nm, 1550nm | Single Mode | High Degree | 1340-1610 | 270 | 1475 | 20 | |
| ASM000118 | 3 | 1300nm, 1390nm, 1480nm | Single Mode | High Degree | 1265-1500 | 235 | 1383 | 20 | |
| ASM000119 | 5 | 1390nm, 1480nm, 1550nm, 1615nm, 1680nm | Single Mode | High Degree | 1340-1725 | 385 | 1533 | 32 | |
| ASM000120 | 2 | 1550nm, 1615nm | Single Mode | High Degree | 1530-1630 | 100 | 1580 | 10 | |
| ASM000121 | 6 | 1390nm, 1430nm, 1480nm, 1550nm, 1615nm, 1680nm | Single Mode | High Degree | 1345-1725 | 380 | 1535 | 35 | |
| ASM000151 | 3 | 830nm, 850nm, 880nm | Single Mode | High Degree | 810-890 | 80 | 850 | 10 | |
| ASM000201 | 2 | 1615nm, 1680nm | Free Space | High Degree | 1575-1725 | 150 | 1650 | 35 | |
| ASM000202 | 3 | 1480nm, 1550nm, 1615nm | Free Space | High Degree | 1435-1640 | 205 | 1538 | 55 | |
| ASM000203 | 3 | 1340nm, 1390nm, 1430nm | Free Space | High Degree | 1310-1465 | 155 | 1388 | 65 | |
| ASM000204 | 4 | 1300nm, 1340nm, 1390nm, 1430nm | Free Space | High Degree | 1265-1465 | 200 | 1365 | 90 | |
| ASM000205 | 4 | 1480nm, 1550nm, 1615nm, 1680nm | Free Space | High Degree | 1435-1725 | 290 | 1580 | 80 | |
| ASM000206 | 5 | 1300nm, 1340nm, 1390nm, 1430nm, 1480nm | Free Space | High Degree | 1265-1500 | 235 | 1383 | 115 | |
| ASM000207 | 5 | 1340nm, 1390nm, 1430nm, 1480nm, 1550nm | Free Space | High Degree | 1305-1605 | 300 | 1455 | 110 | |
| ASM000208 | 6 | 1300nm, 1390nm, 1480nm, 1550nm, 1615nm, 1680nm | Free Space | High Degree | 1265-1725 | 460 | 1495 | 125 | |
| ASM000209 | 2 | 1480nm, 1550nm | Free Space | High Degree | 1435-1605 | 170 | 1520 | 45 | |
| ASM000210 | 6 | 1340nm, 1390nm, 1430nm, 1480nm, 1550nm, 1615nm | Free Space | High Degree | 1310-1640 | 330 | 1475 | 120 | |
| ASM000211 | 6 | 1300nm, 1340nm, 1390nm, 1430nm, 1480nm, 1550nm | Free Space | High Degree | 1265-1605 | 340 | 1435 | 130 | |
| ASM000212 | 3 | 1430nm, 1480nm, 1550nm | Free Space | High Degree | 1410-1605 | 195 | 1508 | 60 | |
| ASM000213 | 3 | 1300nm, 1340nm, 1390nm | Free Space | High Degree | 1265-1420 | 155 | 1343 | 70 | |
| ASM000214 | 3 | 1390nm, 1430nm, 1480nm | Free Space | High Degree | 1355-1500 | 145 | 1428 | 65 | |
| ASM000215 | 3 | 1550nm, 1615nm, 1680nm | Free Space | High Degree | 1515-1725 | 210 | 1620 | 55 | |
| ASM000216 | 2 | 1300nm, 1340nm | Free Space | High Degree | 1265-1365 | 100 | 1315 | 50 | |
| ASM000217 | 3 | 1390nm, 1480nm, 1550nm | Free Space | High Degree | 1340-1610 | 270 | 1475 | 60 | |
| ASM000218 | 3 | 1300nm, 1390nm, 1480nm | Free Space | High Degree | 1265-1500 | 235 | 1383 | 70 | |
| ASM000219 | 5 | 1390nm, 1480nm, 1550nm, 1615nm, 1680nm | Free Space | High Degree | 1340-1725 | 385 | 1533 | 100 | |
| ASM000220 | 2 | 1550nm, 1615nm | Free Space | High Degree | 1530-1630 | 100 | 1580 | 30 | |
| ASM000221 | 6 | 1390nm, 1430nm, 1480nm, 1550nm, 1615nm, 1680nm | Free Space | High Degree | 1345-1725 | 380 | 1535 | 90 | |
| ASM000251 | 3 | 830nm, 850nm, 880nm | Free Space | High Degree | 810-890 | 80 | 850 | 50 | |